Morgan County's Premier River Outfitter
Come see what makes West Virginia so Wild & Wonderful on our float or kayak/canoe trips down the Cacapon River. Enjoy the cool, clean, healing waters and experience the reason even Presidents frequently visited the area!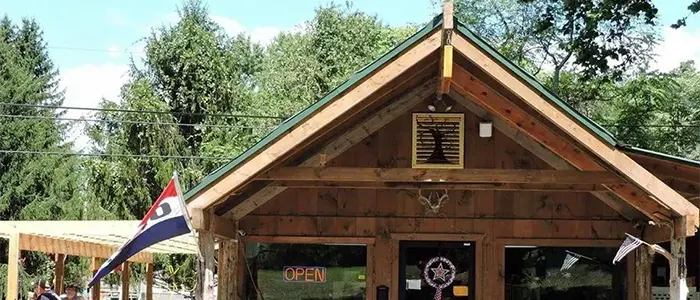 Cacapon River Tube/Kayak Float/Trip
$37/tube or $57/kayak or canoe
Float on a stretch of the Cacapon River just above Largent bridge (where Stoney Creek Country Store is located), which is about a 10 min drive from Paw Paw, WV and about a 25 min drive from Berkley Springs, WV. This family friendly stretch meanders along the valley and presents flat water and a section of fast-moving water and large boulders. This tube float averages 4 to 6 hours depending on river conditions, or 1.5-2.5 hours on kayaks. Your trip ends at Stoney Creek Country store, and you can hop into your car (or visit the store for delicious hot food or ice cream treats) and continue your adventures w/o waiting for shuttle or other groups.
What's included:
Deluxe Tube with Headrest, Mesh Center and Cupholder OR a single seat Kayak (Canoes available as well)
Life Vest
Cooler Tube (included with Tube trips, pack light for Kayaks)
Shuttle Service to the Launch Point
You can also upgrade to kayak at the store based on availability.
Why Choose Cacapon River Outfitters
We are the premier outfitter in Morgan County West Virginia. Our float trips include deluxe tubes with headrests, mesh centers, and cupholders, and we provide shuttle services so that you only have to worry about showing up to the store, boarding the shuttle, and enjoying your float.
Crystal Farmer
October 8, 2021.
recommends
Love this! Perfect adventure on our honeymoon! Thanks so much!!
Sarah Patterson
August 13, 2021.
recommends
Just got back from our tubing trip, it was great time, good for all ages. The Craft family are super friendly! We will be back!
John Widmer
July 14, 2021.
recommends
My family went to WV on an extended weekend and were able to take a relaxing ride down the Potomac River. We had an enjoyable time and our hosts were friendly and a lot of fun. They took good care of us and made the best out of a shallow, slow moving river….would have been more fun if the river ran faster, but that's not up to us. Would recommend.
Colleen Rhoades
August 15, 2020.
recommends
Awesome service! They took care of everything from loading tubes to opening car doors. No waiting around at all. They were there for us at pick up spot before we made it there. Very friendly people.
Luis J Munoz
July 27, 2020.
recommends
I can't recommend these guys enough. They were very friendly and helpful. They provided the ropes to keep our group together and even happened to have an extra waterproof phone case for us to borrow. When you get to the resort, you need to walk your way to their new office and the bottom of the hill behind the resort. You'll have a great time!
Trish Young
July 13, 2020.
recommends
Best birthday ever!!! We had a group of 12 people ranging from ages 7 to 47 and had such a good time. The folks at Crafts Adventures were awesome. The float was nice and relaxing - the water was so clear- we highly recommend!
Erin Kennedy Hess
June 29, 2020.
recommends
Spent a leisurely morning floating down the river. Great inner tubes, they come with back rests, and great service. They supply everything you need for a fun and safe trip.
Thomas F Kennedy
June 29, 2020.
recommends
Friendly staff, no waiting, clean and well-maintained equipment, and a really fun trip down the river! We definitely enjoyed everything about our tubing trip, especially the comfy tubes with head rests and cup holders. Nice calm ride and because they weren't busy they even gave us an extra tube for our coolers. Bring lunch and drinks!
Deno Stiles
June 8, 2020.
recommends
Had a wonderful time today at coolfont! Ken Craft and his family were personable and attentive, and took every step to ensure our needs were met. Rented 2 kayaks and 2 canoes, all were in good shape and time was taken to explain how to use the life jackets etc... the lake was peaceful, and it was fun watching the fishermen who were also renting finding success with some big fish! Would definitely recommend as a relaxing way to spend an afternoon with family!
Susan England
May 27, 2020.
recommends
Crafts Adventures is curating all of the lake services on Lake Siri at Coolfont Resort. Crafts Adventures offer the best services by the friendliest, most helpful folks at very reasonable rates.
Largent Floats and Kayak/Canoe Trips
At Stoney Creek Country Store
25 minutes South of Berkeley Springs on Route 9 toward Paw Paw, WV. The Store is on the right hand side and is right before the bridge, it is also your pull out. You get shuttled upstream, and float down to your vehicles.